The Commercial Web Design Package
A package for selling or displaying products online.
Who is this for?
This package is targeted at sole proprieters and SMEs who need help in setting up a website to display or sell a variety of products online.
A look at the Commercial package
This package uses commerce software and a unique web design process to create a website for displaying and managing products online. It includes set up of the product management system, shopping carts, shipping and payment gateways (if needed). You get a high level of guidance and customer service: much-needed because there are many small task to do to build a product-based website to a good standard.
Package inclusions
Premium template
Page builder
6 main pages
Shopify/WooCommerce
60 days warranty
1 year free hosting
Website features
Well integrated content
Style guide
Photography and icons
Project guidance
A look under the hood
Our websites are built to a high standard. We use WordPress or Shopify which are the industry standards. They are constructed with ease of maintenance, SEO and digital marketing in mind.
Behind the scenes
Premium construction
Easy to add, easy to edit
Optimized for fast loading
Basic SEO included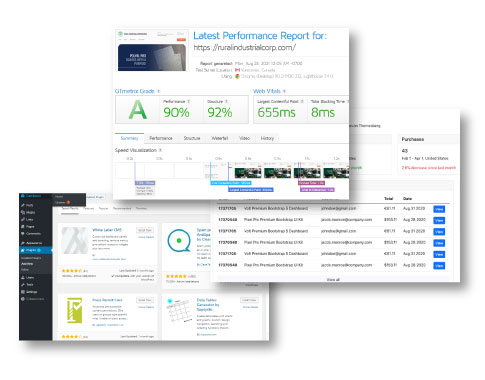 Website features
We provide a full range of complementary services: website functionality add-ons, design services and advanced hosting to further enhance your website package.
Mobile friendly
Our website will function the same way, regardless of the device. Your website will adjust to fit the device automatically. This includes smart phones, tablets and desktops.
Advanced editor
After launch, you will be able alter your website through a Drag and Drop editor. You can add new sections, pages and functions very easily, without coding.
Best technology
All website packages come with free tastefully selected stocks photos (or illustrations) to enhance and compliment your photos and content. Photos are chosen by our designers.
Premium software
Loaded into your website are the tools needed to take the first steps into SEO. This tool is important because it will help your web pages rank higher in the search engines.
60 days warranty
Upon launch, the website will be under warranty for 60 days for Essential and 90 days for Professional packages against bugs and software errors that may arise.
1 year free hosting
All website packages come with 1 years free hosting with Starfish's hosting service. This includes set up and launching. The hosting service is managed for you.
Easy to expand
All our websites are made on the latest version of WordPress. WordPress is the industry standard and is ideal for most businesses due to its expandable nature.
Easy to maintain
Websites come with 1 and 3 contact forms that can have documents attached. Forms are easy to alter after launch. Form details are sent to email address of your choice.
Fast loading pages
Websites are optimized to load quickly. This is done by reducing file sizes and using quality plugins only. Website speed affects search engine ranking.
Our design process
Our goal is to make websites as affordable as possible without compromising on quality.
To meet our goal, our design process is simple: we focus on the content first, layout second and traditional design aspects last. This results in a cleaner, crisper and easier to understand website.
Benefits of our design process
Users stay longer.
Content SEO friendly.
Fast loading.
Quality design.
Web design services
We provide a full range of complementary services to make sure you get the best website possible. Choose the best activities to your suit your particular circumstances and website requirements.
Competitive Analysis
We look at your competition and further afield. A competitive analysis gives you assurances that you're doing it right.
Wireframing
Wireframing is visual planning. We make many types of wireframes to ensure your content and design make sense.
Photography research
Finding the perfect photo for your website takes time and effort. This service will help you choose the right photos for your website.
Branding
There are so many level to branding. Take your first steps to develop a unique brand identity with Starfish and build it up piece by piece.
Quality Assurance
Quality assurance is integral to all websites we make. There are so many parts to a modern website that its simply obligatory.
Speed optimization
The speed of your website is important for SEO and user experience. Our website speed optimization service takes care of this.
Graphics and illustrations
Photography and graphics visually bring a website to life. We have graphic designers to help make logos and illustrations.
Content Planning
There are so many pieces of content that need to go into a well-constructed website. Content planning speeds up that process.
Package price
For a Commercial website prices start at:
| PHP | USD | AUD | EUR | GBP |
| --- | --- | --- | --- | --- |
| 60,000 | 1200 | 1620 | 1032 | 870 |
See all our package prices
Starfish has a wide range of products and services at affordable prices
Interested to find out more?
Contact us to arrange a quick chat
or fill out the enquiry form to get a few more details.