Website Maintenance
Keep your website safe and running smoothly. Starfish is your long-term website maintenance and support partner.
How we can help you
Modern websites are complex and require regular maintenance and care. Starfish can look after your website and ensure that it is running optimally. Whilst it is tempting to not touch your website after launch, problems tend to creep in, which can lead to loss in revenue due to an ill-functioning website.
Fixing warnings and errors
Our team can jump in to investigate and fix errors on your website at short notice.
Website monitoring
We can keep check on your website to ensure that it is error free and working on all devices.
Technical optimizations
Work with us to get the best results and the most insights into digital marketing.
Keeping your website up to date
Our service is comprehensive, you don't have to pay more to unlock services.
Services we provide
Starfish work with a variety of clients to maintain their simple or complex setups. The work is varied and can encompass a range of technologies and hosting environments. Some work is technical in nature, other tasks have marketing, design or investigative aspects. We work closely with our partners to ensure that our team provide a swift and economical solution to their range of requirements.
Website security and administration
Website performance and security are perennial issues. Websites need to be "hardened", so that they are not security risks. Sites need to be reviewed for access speed, as they tend to slow down over time. Read more about website security and administration.
Website optimization
Websites optimization covers a range of technical checks and tweaks to make sure your website's content (content optimization) is easy to read by search engines, and that they site loads quickly, and they work well in all devices. Read more about website optimization.
Website maintenance and technical support
Website maintenance entails regularly checking your website for issues and mistakes and keeping it updated. Support entails being able to solve problems that may occur in a quick and efficient manner.
Affordable, reliable web work
Our mission is to help you get creative, design and development work as affordably as possible without compromising on quality and reliability of service.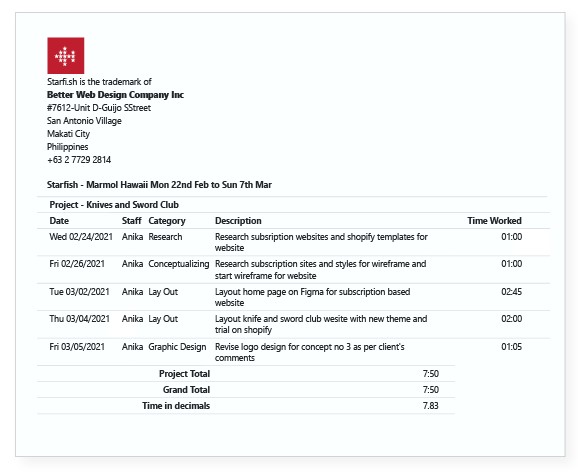 Weekly Logs
When your account is active, logs are sent every Monday, detailing how many hours were spent, what they were spent on and by whom.
Credit limits
You're given a credit limit, work stops once the credit limit has been reached. You can pay down your account at any time.
Budgets and estimates
You can set weekly, monthly or fixed budgets. You can ask for estimates per task.
Methods of payments
We accept bank transfer, PayPal (USA or PHP), Wise (TransferWise) or GCash (Philippines).
Want to know more?
Contact Us to arrange a quick chat or
if you have any information you'd like to share, fill out the Inquiry Form.