Marketing Collateral
Starfish makes it easier for you to get good, clean designs at affordable rates. We produce marketing material such as logos, banners and newsletters.
How we can help
You can get access to designers that know your brand and preferences with an ongoing relationship with Starfish. Since relationships are personal, we can accommodate a large variety of different requests. We have a transparent, no-nonsense approach that lends itself to quick and efficient graphic design work.
Creative graphic and designs
We can design many types of creative works at all budget levels.
Collateral for digital marketing
We produce materials for campaigns such as social media posts and newsletters.
Assets to promote your business
We can supply a range of marketing assets to help your marketing initiatives.
Help improve your brand identity
Create, modernize or polish your brand identity so that it's professional.
Services we provide
We assist our clients with their specific marketing collateral needs. From a single logo, to a suite of branded collaterals, to a steady supply of digital marketing creative ideas.
Designs for marketing and brand collateral
We design business cards, letter headed paper, promotional marketing collateral, posters, boxes, brochures, pamphlets.
Designs for digital marketing
We design banner ads, social media posts (Facebook, Instagram), ongoing creative campaigns, blog post collateral. We can find photos and share ideas to keep things fresh.
Logos, icons and other graphics
We design logos, infographics, icons, graphics, buttons. We create brand identities, brand extensions and style guides.
Affordable, reliable web work
Our mission is to help you get creative, design and development work as affordably as possible without compromising on quality and reliability of service.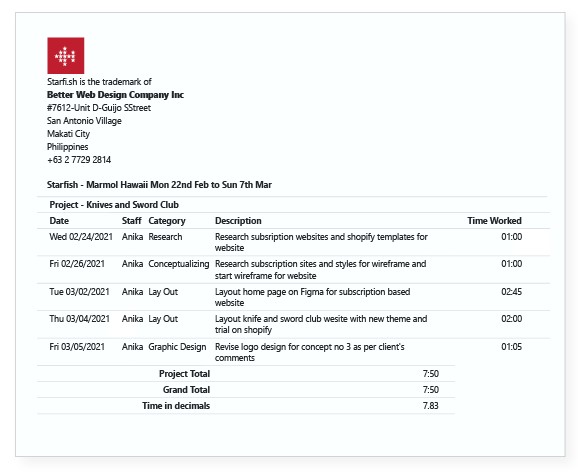 Weekly Logs
When your account is active, logs are sent every Monday, detailing how many hours were spent, what they were spent on and by whom.
Credit limits
You're given a credit limit, work stops once the credit limit has been reached. You can pay down your account at any time.
Budgets and estimates
You can set weekly, monthly or fixed budgets. You can ask for estimates per task.
Methods of payments
We accept bank transfer, PayPal (USA or PHP), Wise (TransferWise) or GCash (Philippines).
Want to know more?
Contact Us to arrange a quick chat or
if you have any information you'd like to share, fill out the Inquiry Form.