WordPress Development
Develop, maintain and support your custom-built WordPress website. The Starfish team is well-versed in WordPress, HTML and CSS.
How we can help you
WordPress is a fantastic system that allows you to build functionally complex websites reliably and affordably. Even with all the advantages that WordPress brings, it still takes experience to build a website properly. Starfish knows the WordPress system well. We can help you build and sustain your technically non-trivial WordPress website.
WordPress support and enhancements
Our team gives a quick response to changes and improvements to your WordPress system.
WordPress website development
We guide you through the entire process so that you're involved and know your options.
WordPress technology selection
We help you find the right and test the WordPress software stack for your particulars.
Project coordination
Coordinators help you manage your side of the project as well as making sure we do ours.
Services we provide
We provide a full range of services for the project from planning, to design, build launch and maintenance and future upgrades. We work with systems created by other WordPress developers.
WordPress development
As well as WordPress itself, we are familiar with how to develop using the large ecosystem of software that revolves around WordPress. We can integrate WordPress with various systems and software services.
WordPress project management
Websites made in WordPress benefit from a specialist approach to development. Our method of building websites caters to the peculiarities and characteristics of WordPress. The result is a website that requires less effort to build and is easier to maintain.
WordPress support and maintenance
WordPress websites need regular software maintenance and upgrades. We can optimize, update content, add new features, improve functionality, alter code, investigate errors on Starfish or third-party created systems. Learn more about WordPress Support.
Affordable, reliable web work
Our mission is to help you get creative, design and development work as affordably as possible without compromising on quality and reliability of service.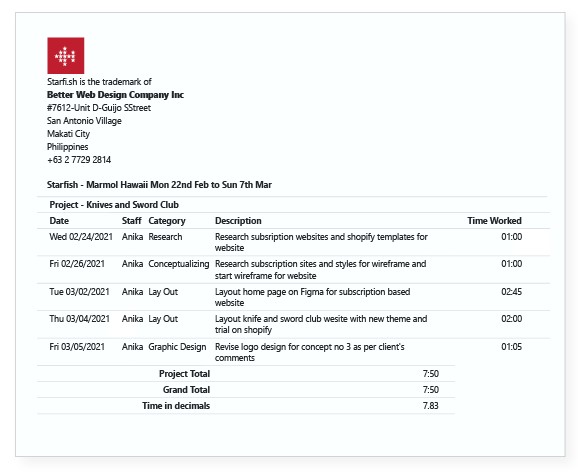 Weekly Logs
When your account is active, logs are sent every Monday, detailing how many hours were spent, what they were spent on and by whom.
Credit limits
You're given a credit limit, work stops once the credit limit has been reached. You can pay down your account at any time.
Budgets and estimates
You can set weekly, monthly or fixed budgets. You can ask for estimates per task.
Methods of payments
We accept bank transfer, PayPal (USA or PHP), Wise (TransferWise) or GCash (Philippines).
Want to know more?
Contact Us to arrange a quick chat or
if you have any information you'd like to share, fill out the Inquiry Form.