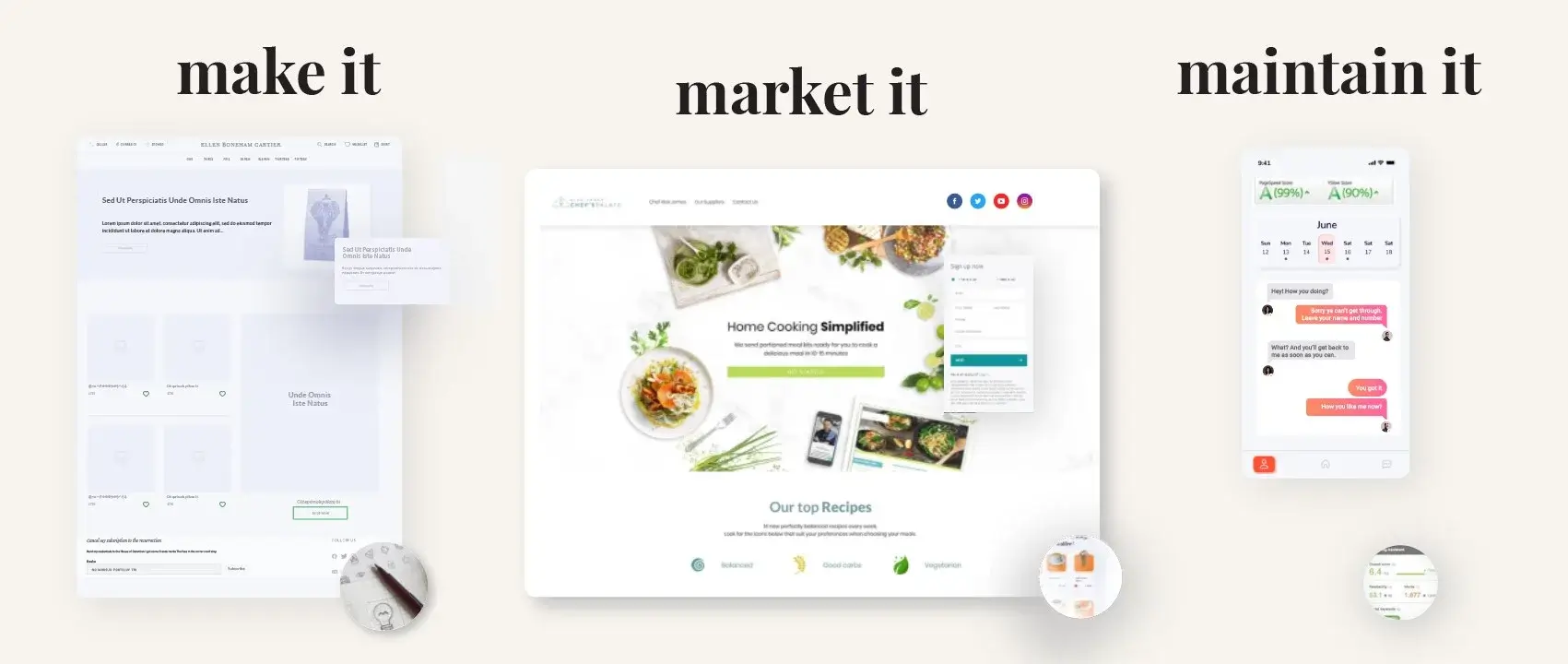 Affordable, dependable us
Web Design Philippines
You need a reliable and affordable digital partner. Based in Manila, Philippines, we design, develop and market websites for companies big and small.
You get a lot of guidance and work directly with a specialist team of web designers, web developers, content writers, digital consultants and project coordinators.
If you're frustrated with flaky freelancers or wishy-washy web agencies, don't hesitate to give us a try!
Design and development prices
Website Packages
623 USD
514 EUR
812 AUD
801 SGD
737 CAD
443 GBP
We have four packages for different business types.
Graphic design
13 USD
10 EUR
16 AUD
17 SGD
15 CAD
9 GBP
Our team of graphic designers ready for you.
Digital marketing and SEO
13 USD
10 EUR
16 AUD
17 SGD
15 CAD
9 GBP
Regular work, affordable monthly budgets.
Website Maintenance
13 USD
10 EUR
16 AUD
17 SGD
15 CAD
9 GBP
We'll look after your website all year round.
Web Development
15 USD
13 EUR
20 AUD
21 SGD
19 CAD
11 GBP
Developers to support and develop your website code.
Our web expertise
Lots of different skills are needed to build, run and maintain a website and a digital presence. That's Starfish gives you a ready-made team of skilled individuals - ready to work with you and each other. Starfish Web Design Philippines makes it easier for you to access these skills affordably.
Website packages to suit everyone
We have a range of website packages to suit different types of businesses and budgets. Packages have optional assistance services so that they can be tailored to fit. They are designed to be affordable without compromising on quality.
Four business packages
Our packages are designed for different business types and typical business situations.
Three good reasons
Why buy a website package from Starfish when there are so many options out there?
Plenty of service
Our websites are easy to use, easy to understand and easy to maintain. They highlight the benefits of doing business with you and differentiate you from your competition.
We'll take the mystery out of Digital Marketing and SEO. Our personal service lets you discover what works for you and what doesn't.
Work with our coordinators to build up your brand and digital marketing strategy.
Discover if Facebook is better than LinkedIn or if advertising has better results than SEO. Our way is affordable, transparent and effective.
Digital Marketing working for you
Designs for everyone
All businesses are unique, so you can't build a website without considering its industry, its clients and the unique characteristics of the business itself.
Starfish specializes in content-driven design. The results are clean and easy to understand websites that highlight the uniqueness of your business.
Website maintenance is more important than ever before.
Websites are more complex and play a bigger role than ever for every type of business.
Starfish has a flexible and affordable approach to maintenance. Please have a look.
Website maintenance and support
Get Started with Starfish
Contact us to arrange a quick chat
or fill out the enquiry form to get a few more details.